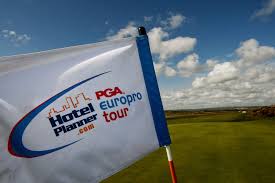 Woodgate Aviation has signed up Northern Ireland golfer, Jonny Caldwell, to 'spread the word' as part of an all-out drive to win business ahead of The Open in 2019.
Under the sponsorship deal, Jonny will grace golf courses wearing shirts emblazoned with the Woodgate Aviation logo.
The intention is to reach as big a UK and international audience as possible ahead of the big build-up to the prestigious Royal Portrush event.
The Clandeboye golf pro who plays in the PGA Euro Pro Tour will be seen by a global television audience, on Sky Sports, as he competes in forthcoming tournaments.
Jonny says the arrangement with Woodgate Aviation is a 'most welcome boost.'
He adds: "I am delighted to have the support of Woodgate Aviation. I will wear shirts with the company's logo and hopefully drive up awareness of what this great Northern Ireland company is capable of doing.
"Woodgate's hangar is the most modern and best equipped anywhere in the island of Ireland and I can see considerable interest from golf pros who will be taking part in The Open in 2019. It's an ideal location for them or charter aircraft companies to touch down for the Championship and then use helicopters to get to Portrush."
Woodgate Aviation Business Development Manager, Keith McKay, said: "This sponsorship is all about spreading the word nationally and internationally that's there's a world-class facility here with a proven track-record in meeting the most exacting needs of the private jet customer.
"Golfers talk to golfers, and I know Jonny will make a first-class 'ambassador' for the company when he's talking both on and off the course. That's an audience we need to reach and Jonny will also help give us the increased visibility we need.
"This is the start of Woodgate Aviation's own race to The Open. We want to cater to the needs of golf pros and the small legion of customers who either own or charter private jets to get to where they need to be. We couldn't be better placed to do that job."