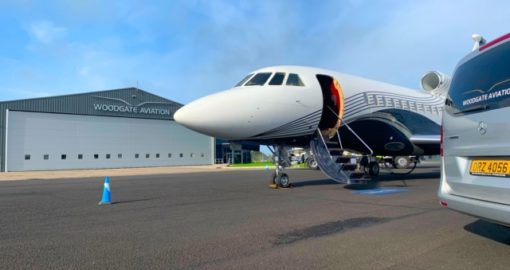 From our base at Belfast International Airport/BFS, Woodgate Aviation is the leading provider of Business Jet, Private Jet, Air Ambulance and General Aviation service solutions in Northern Ireland.  Our bespoke luxury designed, AvFuel branded FBO, is ideally suited to accommodate VIP, private charter, diplomatic and GA flights visiting Belfast. Woodgate Aviation's tailor made services include passenger, aircraft and baggage handling, jet fuel & AVGAS/100LL, chauffeur transfers (air-side collection and drop off available), VIP in-flight catering services, UK pet importation, customs and immigration, hangarage and secure parking.
Private Jet Departure Terminal
Guests wishing to relax prior to their departure can make full use of our welcoming private jet departure terminal incorporating an executive lounge which has seating for up to 20 passengers, incorporates mood lighting, a full bar, tea/coffee facilities, WiFi, newspapers and condiments. Direct air-side access lounge doors allow for easy and stress free boarding.
Tech/Fuel Stop Aircraft Handling 
Ferrying or delivering an aircraft? Looking for a Great Circle Tech Stop destination? Woodgate Aviation's location at Belfast International Airport, makes an ideal fuel stop destination for North Atlantic Flight Operations.  Our own dedicated 18,000 litre Jet A1 fuel bowser, allows for quick tech stop turnarounds.  We can also provide AVGAS, Immigration and Customs clearance whilst our concierge team can make ground transportation or hotel bookings for any night stopping flight crews.  Operators can benefit from competitive landing & handling fees with fuel hook up and into plane fees waived for all guests visiting Woodgate Aviation.
Pilot & Flight Crew Services
Woodgate Aviation offers an array of services for pilots and flight crew when visiting Belfast International Airport. Our amenities include a dedicated crew room offering refreshments along with shower and WC facilities. We can assist with VIP catering, hotel reservations and crew ground transportation. Our line service agents will take care of all aircraft handling, ensuring quick refueling from our dedicated bowser and we take care of all ground service equipment requirements.
As we are an AVFuel branded FBO, flight crews can take advantage of collecting AVTrip points when fuel is uplifted at Woodgate Aviation.
Hangarage
Woodgate Aviation is Belfast International Airport's only FBO to provide hangarage. Our 33,000 sq ft hangar was constructed in 2015 and at the time of completion, access to hangar floor was through Europe's largest hydraulic door.
Helicopter Handling
Woodgate Aviation can provide helicopter handling at Belfast International Airport. Our location in the North East of the island of Ireland makes us ideally suited to off-shore operators or Search and Rescue (SAR) operators requiring a land base service centre for refuelling. All visiting helicopters, private or commercial, can take advantage of all the facilities and services provided to fixed winged aircraft.