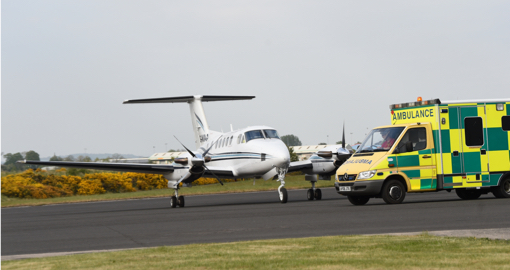 Air Ambulance Handling
Woodgate Aviation have more than 20 years experience operating air ambulances and providing air ambulance handling. We have refined our knowledge to ensure each case is dealt with appropriately.
For our Medi-Vac Service, we utilise both the Beech Kingair 200 and PA31 Chieftain from our bases at Belfast International Airport and Isle of Man which are equipped with a full Lifeport System. Whilst both aircraft can carry similar levels of equipment, the Kingair is the preferred transfer method for emergency and urgent patient transfers. The Kingair is pressurised and can fly at up to 35,000ft providing a safe and comfortable environment for the patient and medical crew.  The aircraft can accommodate a patient and up to 4 passengers (medical team and/or relatives) depending on the clinical needs.
All our Air Ambulance Transfers are carried out using fully trained crew members. There is at least 1 of our medics on board to ensure the safety of the patient at all times. We are able to respond to any emergency request within approximately 1 hour and are available 24/7.
We have access to our own medical teams that are specifically qualified in Air Ambulance operations. Medical experience varies from Nurses to Anaesthetists. This allows us to assess each patient and supply the correct medical team for the transfer. All cases can be handled from infants upwards, including Intensive Care Patients.
We currently work closely with the NHS to provide Air Ambulance transfers.  We also provide a full service to private individuals as required, including aircraft and crew, lifeport facility, road ambulances, medical/insurance repatriation, transplant and surgical team transport flights.
This service is particularly useful to individuals wishing to transfer friends/relatives. Depending on location, we have the ability to supply hangarage during transfer from the aircraft to the ambulance in order to protect from weather elements.