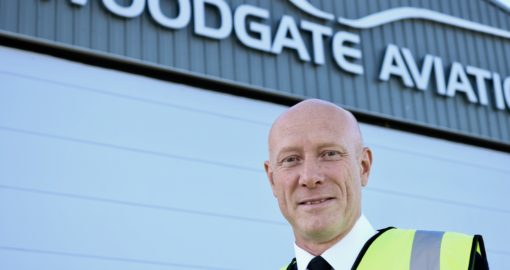 Meet the man who has recorded Investiture ceremonies at Buckingham Palace for 26 years.
Jonathan Edwards has always had a passion for flying and having gained his commercial pilot's licence in 2010 is now working for Woodgate Aviation which operates from the Isle of Man and Belfast International Airport.
In the twenty-six years he has been filming the Queen and other members of the Royal Family, the father of two from the historic market town of Wokingham, Berkshire, has attended more than 500 Investiture ceremonies. The 48-year old is continuing as Managing Director of British Ceremonial Arts Ltd (BCA), which employs six experienced staff, but he will soon be taking to the skies over Ronaldsway, transporting patients from the Isle of Man to specialist hospital units in England.
Having always had a keen interest in flying, Jonathan is looking forward to getting behind the controls of one of the PA31 Chieftain aircraft that work alongside the two BE200 King Air Woodgate Air Ambulances which undertakes what is often life-saving flights from both the Isle of Man and Northern Ireland.
As if flying an Air Ambulance and recording the Queen at formal ceremonies aren't enough, Jonathan can also boast having been a ski instructor and now a part-time flight instructor working out of Blackbushe School of Flying at Camberley, Surrey.
His wife, Natalie, and daughters, aged eleven and thirteen, have been hugely supportive as Jonathan worked to fulfil his lifetime ambition.
Jonathan says: "I couldn't have done any of this without their enthusiastic backing. They've been brilliant! I've gone through all my commercial exams and studied long and hard to get to this point and now, I cannot wait to get going." 
As part of the final stages of his training, Jonathan was at Woodgate's Belfast International Airport base and was impressed with the 33,000 sq ft state-of-the-art hangar and FBO.  Jonathan continues: "Woodgate Aviation's base is something else. This was my first time in Belfast and both the city and the company operation at the International Airport were exceptional.  Staff have been wonderful too with each and every one of them doing all they could to make me feel at home."
Jonathan describes himself as "a very practical person" and from a background in IT, he got his private pilot's licence at the age of 26.
Never short of hobbies, he was a keen photographer, but that developed into videography and editing, giving him the ideal 'platform' to develop his talents as his late father, Peter, a BBC veteran sound recordist of forty years and a double BAFTA award winner, was always on the look out for an extra pair of hands in BCA. Peter, who died from cancer in 2007, was conferred with Royal honours including Member of the Royal Victorian Order (MVO) and, then, at the age of sixty-six, with the Commander Victorian Order (CVO).​  Jonathan had worked with his dad on many previous Royal ceremonies, but when Peter became ill, he stepped up his involvement in the business. 
Jonathan adds: "I have worked on over 600 Investiture ceremonies and the work we do is something that I am very proud of. Flying, though, is never far from my thoughts even after filming a great occasion or working as a part-time flight instructor." At the age of 37, he decided to pursue his dream of obtaining his commercial pilot's licence.  Months of studying followed, all with the support of wife, Natalie, who was left to look after two children and run the business. He successfully completed a string of necessary courses before graduating in 2010.
"It wasn't easy to get a job after that because of the downturn in aviation, and I was at the point of giving up all hope when a friend who now is Chief Pilot for Woodgate Aviation, Simon Atkins, mentioned that the company was in the market for a pilot.
"Simon mentioned the Air Ambulance and I thought that that would be a good way of giving something back and, of course, I was thinking of my late father and the illness he had. I thought it would be a fitting role. It's hands-on flying and its doing something that helps others as well," he adds.
Jonathan admits that once you have the aviation bug, it's hard to get it out of your system.  That said, Jonathan will remain at the helm of BCA, continuing the legacy left by his father.  He continues: "Filming days will work in nicely around the flying roster Woodgate Aviation has got. There's flexibility there and that's great. Flying the air ambulance shouldn't affect the filming schedule. I have created a wonderful team at BCA that are extremely capable of the day today running on those days I will not be there." "The staff have been there a long time and they're very loyal. I've spoken to them about my new role, and they're very supportive of what I'm doing. There are six staff in the company and some have been there for twenty years, so there's no shortage of experience. My brother, Mark is also a Director of the business."
 As for the new job at Woodgate Aviation, Jonathan says: "I'm really looking forward to the challenge. It's very exciting." 
So, from videoing people receiving their Honours, Jonathan now takes his place as a new 'knight of the skies' transporting patients in need of specialist care from the Isle of Man to hospitals in England.