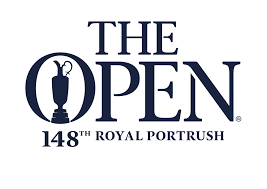 Woodgate Aviation's big push to win business before and during The Open at Royal Portrush next year has earned unprecedented press coverage.
The company was given a Page One slot in the widely-read Belfast Telegraph Business Section along with a double-page spread inside.
Business Reporter Ryan McAleer used this year's successful British Open Golf Championship at Carnoustie as the peg for his piece, giving Woodgate Aviation the ideal platform to promote what it is doing ahead of headline sporting event on the North Coast next summer.
The Fixed Base Operator (FBO) is offering free aircraft handling at its state-of-the-art hangar at Belfast International Airport to competitors and private clients alike who jet in for the event.
Accountable Manager, David Shaw, explained that aircraft can taxi to the facility to be met at the bottom of the steps by chauffeured car or helicopter to take clients directly to Royal Portrush or wherever they are staying.
David, who studied aeronautical engineering at Queen's University Belfast, says the company has already earned some plaudits from top golfer, Ernie Els during a three-hour stopover at the FBO.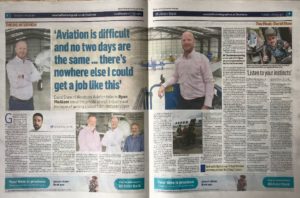 "It's essential that top players and high net-worth individuals know that we operate the most advanced facility of its kind anywhere in Ireland which makes us ideally placed for The Open. Getting an endorsement from Ernie Els says to the rest of the elite cadre of international golf stars that they need look no further than Woodgate when it comes to flying in to Northern Ireland for what will be a global event with hundreds of millions of tv viewers," David adds.
The FBO can offer hangarage, aircraft refuelling, charter and maintenance facilities. David continues: "Currently, we accommodate three private jets in the hangar, with the full back-up of a luxurious VIP Lounge, food and wine provision and crewing. We also have two Beechcraft Kingairs for Charter and Air Ambulance and four Chieftains, one of which is used exclusively by the Land and Property Service to map every inch of the country."
Back to the exposure in the 'Belfast Telegraph'. David continues: "We are delighted with the unprecedented coverage we received. Business journalist Ryan McAleer did a first-class job telling our story – a local success story!
"Next year, Woodgate celebrates its 50th anniversary. We are going from strength to strength and are confident of securing new business. We currently have forty employees but I see that number increasing as we capitalise on new opportunities."