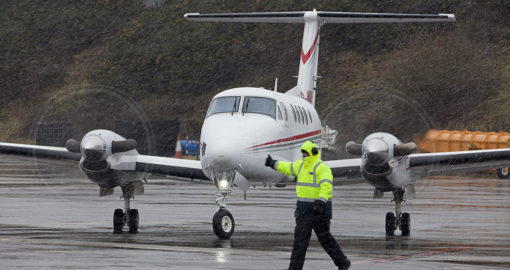 Flying High
Fifteen flights….almost thirteen and a half flying hours….and all achieved over two days when Woodgate Aviation pilots and operations support staff were happy to be 'flying high.'
Thursday 11th  February was an eight-sector day, flying from 09:50 until 00:30 on the 12th. Then, on Monday, 15th February  the company achieved a seven-sector day with flying operations up until 02:30 the following morning.
Destinations
The pick-up in demand saw flights to Cork, Birmingham, Newcastle, London, Dublin and the Isle of Man. Flights included a private medical repatriation, air ambulance sorties as well as a resident repatriation return flight to the Isle of Man from Dublin.
Woodgate Aviation operates the fixed-wing Northern Ireland Air Ambulance service from its base at Belfast International Airport and over the course of the two days, there were some scheduled sorties as well as an urgent liver transplant flight.
Operations Manager, Keith McKay, said: "This was a huge team effort and very much a case of all hands on deck. I'm delighted to say we were run off our feet for all the right reasons."
"Eight sorties in one day followed within days by seven further sorties meant we chalked up an impressive tally over a 27-hour period. Our two King Air aircraft, which are first-class 'workhorses' of the sky, proved their worth and although our pilots, aero-medical and operations team were glad for some downtime to recharge batteries, they were elated to have achieved this figure."
"The Air Ambulance is a vital link for patients who requirement treatment that cannot be supported in Northern Ireland. This valuable service along with the ability to offer private medical and resident repatriations illustrates our ability to deliver regional connectivity to all parts of the British Isles."
"So long as the journey qualifies as 'essential', we can operate private passenger travel or business charters. If you need to make an essential trip, Woodgate Aviation can offer you a solution. You can call us 02894422478 or email bfs@woodair.com for availability and a quotation."