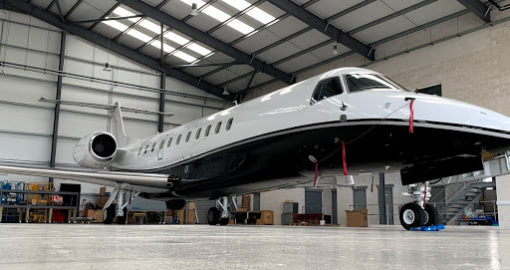 An Embraer Legacy 600 has become the largest aircraft to be accommodated in our hangar at Belfast International Airport.
The 85-foot long private business jet can accommodate up to fourteen passengers in its large cabin. It is powered by Rolls-Royce engines with a range of 3,400 nautical miles and a top speed of 528 MPH.
The Embraer Legacy 600 can reach any destination in mainland Europe and can easily do a trans-Atlantic hop to New York.
Woodgate Aviation Accountable Manager, David Shaw, says the jet has a tremendous track record and they are delighted the owner favoured their hangar over other options.
David says: "The legacy 600 fills more than a third of our hangar and cuts quite a dash on the apron as it prepares for its next odyssey.
"It is an impressive aircraft with the large cabin the last word in executive comfort. At Woodgate Aviation, we have a proven track record managing multi-million dollar aircraft for private owners.  Indeed, we are the only Fixed Based Operation at Belfast International Airport to their own hangar facility.
"Owners want their aircraft properly and safely accommodated when not flying and not left out on the apron in all weathers. There are significant cost benefits to be housed in a weather-proof facility and having the full range of on-board facilities and refuelling managed by our professional team.
"We have handled an Embraer Legacy 600 in the past, but this is the first time an owner has decided to base one with us. It affords us the opportunity to once again demonstrate our capability and the first-class facility we have in our purpose-built hangar. This is another first for Woodgate, and needless to say we are delighted the owner has once again shown his confidence in our operation."