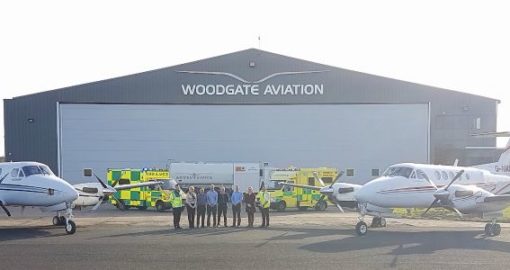 Woodgate Aviation, which is based at Belfast International Airport, has secured two multi-million contracts to provide Air Ambulance services in Northern Ireland and the Isle of Man.
The business was won in the face of stiff competition and will run for three years with the ability to extend the services by a further year.
To deliver the services, Woodgate has purchased a second Beechcraft King Air and will have a third aircraft as back-up.
The Northern Ireland contract is a renewal of service from its purpose-built hangar and will safeguard nineteen aeromedical posts.
The Isle of Man contract is new and will operate from both its Ronaldsway Airport hangar and its Belfast facility, and will be a vital link for patients who have to receive treatment in GB hospitals.
Last year alone, Woodgate had its busiest year, transporting 431 patients out of Northern Ireland for specialist treatment not available in local hospitals. Since it commenced operating the Air Ambulance eleven years ago, 2,500 patients have used the service.
Each year in the Isle of Man, in the region of 350 patients were transported to GB.
Woodgate Aviation General Manager, David Shaw, said: "It's a major boost for the company to win these two very significant Air Ambulance contracts, and an endorsement of the quality of the services we provide.
"We are expanding facilities along with our fleet of aircraft, which will enable us to deliver the most cost-effective, professional and dependable service possible for patients from both the Isle of Man and Northern Ireland.
"Competition for this business was intense. We had to demonstrate competitive pricing and quality of service to get across the line, and it's clear we were able to satisfy the rigorous scoring criteria.
"We're an essential link in the chain for patients who must have specialist care. Patients want to get to hospital with the least amount of hassle or fuss.
Sometimes, the people we transport are in need of transplants to save their lives. Obviously, we have to be professional but you're not immune from the emotion of it sometimes, especially when you're transporting very sick infants in incubators who need urgent help.
"That's what we've been doing in Northern Ireland since 2006. We're delighted to have been awarded the contract in the Isle of Man and we're delighted with our double success."