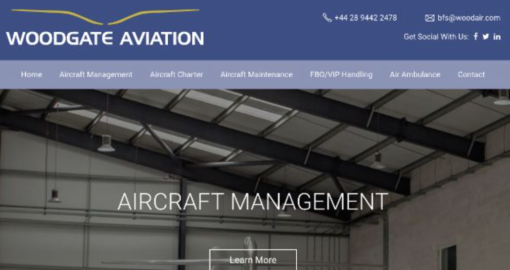 Welcome to our brand new Woodgate Aviation website.  It has an eye-catching look, a fresh feel and is easy to navigate.  The at-a-glance format tells you everything you want to know about the comprehensive range of services we provide.
There are dedicated 'chapters' on aircraft charter, aircraft management, maintenance, FBO/VIP handling and the Air Ambulance services we operate both in Northern Ireland and the Isle of Man.
There's also a section entitled 'Latest News' which keeps you up to date with what we're doing on the business front.
Woodgate Aviation Business Development Manager, Keith McKay, says the new website is a 'shop window' designed to stimulate local and international interest in what Woodgate can
provide and attract new business to the purpose-built hangar at Belfast International Airport.  Keith adds: "We're proud of the quality of service we provide both in Northern Ireland and the Isle of Man where we have another if somewhat smaller hangar. We can accommodate long-haul private jets and meet the most exacting needs of owners and operators. We re-fuel not only the aircraft but also essential supplies for a trans- Atlantic flight or a short hop to the Continent.  All the time, we operate our Medi-Vac service which transfers hundreds of patients, some critically ill, to hospitals in GB for specialist treatment. When you visit our website, why not sign up for our Newsletter which will keep you fully informed of all that do at Woodgate Aviation."