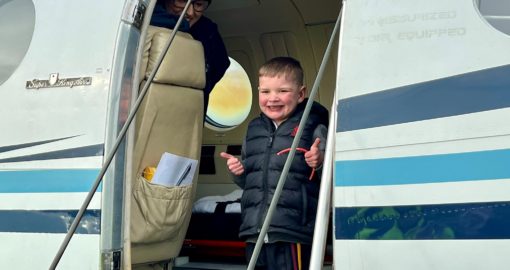 Organ Donation Champion
Organ donation champion, six year-old Dáithí MacGabhann, has taken to the air in the Northern Ireland fixed wing Air Ambulance which is operated by Woodgate Aviation at Belfast International Airport.
Dáithí, along with dad, Máirtín, were flown from Woodgate's hangar to Newcastle for a cardiac procedure…..a year to the day the Northern Ireland Assembly passed organ donation legislation.
Dáithí is in need of a life-saving heart transplant but secondary legislation is required before the organ donation opt-out legislation can be enacted. In the absence of the Assembly, campaigners for what has become known as 'Dáithí's Law' have turned to the Government and Westminster to step in to get the law up and running.
Woodgate Aviation Air Ambulance
Dáithí and a full medical team boarded the King Air B200 Air Ambulance at Woodgate Aviation for the 45-minute flight to Newcastle and then onwards to Freeman's Hospital.
He was accompanied by consultant Dr Jeremy Lyons from Aeromedics, nurse Shauna O'Hare, and at the controls were pilot Nick Byrne and co-pilot Micah Lynn.
Dáithí is no stranger to Woodgate, having flown on the Air Ambulance a number of occasions to specialist medical centres across the water.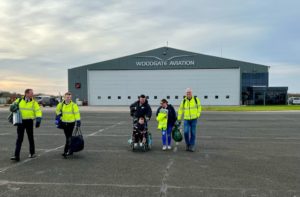 Dáithí's Law
Before boarding, Máirtín said: "It's a year to the day since Robin Swann (then Health Minister) brought 'Dáithí Law' in with the hope that it could become law in the spring of 2023.
"A year to the day, and it's a much different situation and we're heading to Newcastle for Dáithí to have a very important procedure. We're hoping it's a routine procedure and will be back home in a few days.
"We hope within those few days that we might have some further answers from the Secretary of State.
"We're always optimistic. The first time we used Woodgate, he was given a ten percent chance of surviving and he got through then. So, if we had hope then, we certainly have hope now. And hope is all we do have."
Máirtín went on to praise the service provided by Woodgate Aviation. "The service at Woodgate is absolutely phenomenal. It's first class. We would be absolutely lost without Woodgate and we can't thank them enough for being part of our family over the last couple of years."