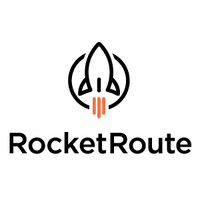 Woodgate Aviation is continuing to innovate, improve and streamline its operation by teaming up with Flight Planning and Trip Support specialist, RocketRoute.
The UK-based online flight service provides 24/7 support across all aspects of flight planning, filing and management with clients including Dassault Aviation, Rega Air Ambulance and Cirrus Aircraft. Woodgate Aviation will also appear as a FBO service and fuel provider on the RocketRoute MarketPlace platform.
The RocketRoute app delivers impressive savings and drives up efficiency with smoother flight planning experiences.
Woodgate Aviation operates a fleet of 2 BE200 King Air's and 5 PA31 Piper Chieftain aircraft. These aircraft are utilised on private charters, Air Ambulance patient transfers from Northern Ireland and the Isle of Man and aerial mapping/photography sorties.  A modern, bespoke FBO and 33,000 sq. ft hangar facility at the company's base at Belfast International Airport (BFS/EGAA) also offers services including Aircraft Charter, Management, Maintenance and VIP Handling.
Woodgate Aviation Accountable Manager, David Shaw, says: "We saw what RocketRoute was capable of delivering in getting the most out of our aircraft and eliminating a lot of the hassle for our crews. It's a sensible direction of travel for Woodgate and we know the benefits will be appreciable.
"We're delighted to be teaming up with RocketRoute. The convenience of good integrated functions such as GAR's, handling requests, manage, delay and bring forward functions available via the RocketRoute app allows for a smoother flight planning experience both for our Ops Team and Flight Crew alike.
"We're also delighted to being included in the RocketRoute MarketPlace which will allow potential opportunities for increased fuel sales and promotion of our FBO/VIP Handling services at Belfast International Airport."

The MarketPlace platform connects pilots and aircraft operators directly with the service providers they need. Users may start ordering through the platform offered by Woodgate Aviation services at Belfast International Airport, include Aircraft Management, Aircraft Maintenance and FBO/VIP Handling services without any subscription.
RocketRoute's Steven Morgan, Senior Business Development Manager said: "It is a pleasure to be able to support the Woodgate Aviation team with providing them with a modern and flexible flight planning service which will enable them to efficiently be able to support their customers. Every second counts for an Air Ambulance service and our integrated functionality allows Woodgate Aviation to get on their way as quickly as possible."