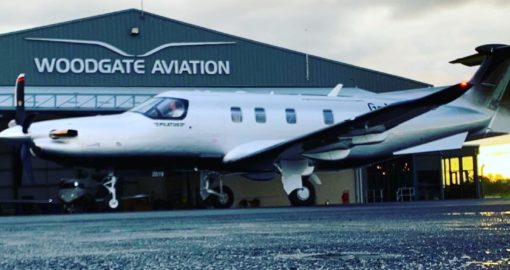 Pilatus PC12NGX
The Swiss-manufactured Pilatus PC12NGX has been displaying its plush features during a day-long exclusive viewing at Woodgate Aviation.  The attractive single engine turbo-prop can seat up to eight passengers and has a range of 1,845 nautical miles. It flies at a maximum altitude of 30,000 feet and for the executive version, the price tag starts at around $4.8 million new.
Exclusive Viewing
Biggin Hill-based Oriens Aviation brought the Pilatus PC-12NGX to Woodgate's Private Jet Departure Terminal at Belfast International Airport where a select group of ten guests were able to check out the aircraft, give the cockpit the once-over and test the luxurious seating, interior and facilities.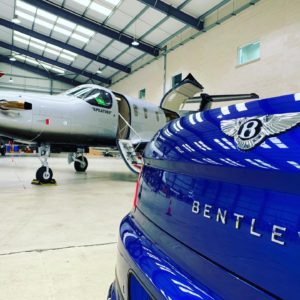 Oriens Aviation, in its promotional literature, says of the aircraft: "The versatility, reliability and economy of Pilatus aircraft are unmatched. With the ability to land on short runways, including unpaved strips, the PC-12 and PC-24 can access more airfields than traditional private jets, opening up your world of remote destinations, getting you right where you want to be in style.
"The Pilatus PC-12 allows you to operate with nearly as much convenience as a helicopter but with significantly lower maintenance costs and with much greater range, payload and comfort."
Sitting alongside the striking single-engine PC-12 in the hangar was an equally eye-catching Bentley Flying Spur supplied by co-hosts, Bentley Belfast – the perfect complement!
The private aircraft was on the second day of a two-day promotional trip to Ireland. It's first day was spent at Newcastle Aerodrome in County Wicklow where it was able to demonstrate the aircraft's grass airstrip versatility.
Woodgate Aviation's Business Development and Operations Manager, Keith McKay, said the day was an outstanding success.
Keith said: "Our ten guests spent considerable time with us and expressed just how well impressed they were both with the Pilatus PC-12 and, of course, the beautiful Bentley Flying Spur that parked up alongside.  It was also a great opportunity for the guests to learn about our Aircraft Management Service."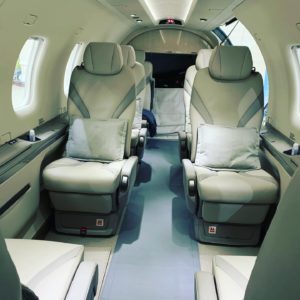 "All in all, it was a productive day with both Oriens Aviation and Bentley Belfast satisfied with the event."
"Woodgate Aviation is unique in that it can organise and host events such as this inside our purpose-built hanger. It means we are not weather-dependent and can add that extra bit of luxury by providing guests with refreshments in our Customer Lounge.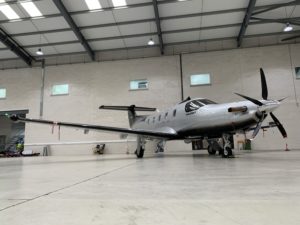 "Oriens Aviation is the exclusive Pilatus distributor for the British Isles and just as it was important to let prospective buyers view the aircraft at our facility, it was also useful for Oriens Aviation to see what we can offer.
"We were delighted to help showcase these two fabulous products and hope that in the near future we will see the Pilatus PC-12 make a return trip to our hanger where we would be delighted to provide the full range of aviation facilities for the operator or new owner."