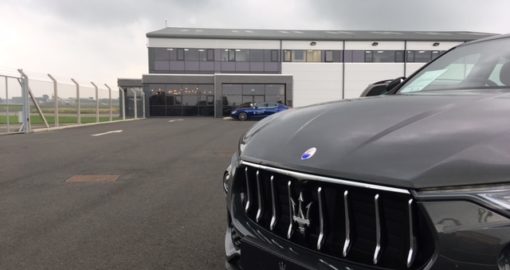 This is why the word 'synergy' was invented. Two great brands, Charles Hurst Maserati and Woodgate Aviation coming together to produce an even more powerful impression. It's even better when they sport their wares at the one purpose-built facility, in this case the Woodgate Aviation hangar at Belfast International Airport.
The picture of the eye-catching and stylish Maserati Ghibli saloon and new Levante SUV alongside a Learjet 45 private jet makes a powerful statement. It has the wow factor. You can imagine stepping from one to the other to start or complete your journey.
Woodgate Aviation and Charles Hurst Specialist Cars, Maserati saw the mutual advantages of closer working ties from the get-go.
Now, the Italian-built beauties grace the entrance to the secure hanger, an ever-present and pleasant visual distraction for aircraft owners and charter clients alike.
Woodgate Aviation's Business Development Manager, Keith McKay, said it made sense to use the hangar as a 'shop window' for one of the most iconic brands ever produced on a car production line.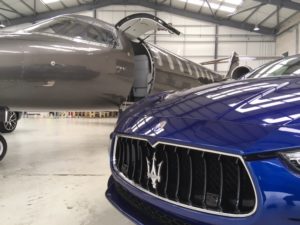 Keith adds: "The first vehicle you see when you come through our security gate is the Levante, quickly followed by the Ghibli which is parked at the front of the hangar entrance.
"Charles Hurst saw the advantage of this placement and had no hesitation in accepting the invitation.
"Woodgate Aviation specialises in a quality product for high net-worth individuals, including private jet sales and management or groups who avail of private jet charters whether flying to Great Britain or mainland Europe or long-haul to North America. The hangar itself has quality written all over it with its dedicated lounge, client facilities and apron access, and now we are joined by a brand that is also in that league.
"This is a perfect match. We have people coming through the hangar on a daily basis and if a Maserati turns their head, then it's a win-win for all."
Charles Hurst Maserati Marketing Manager, Bryony Gambier-Christy, echoed that sentiment.
Bryony says: "Using the space at the front of the Woodgate Aviation's hangar is a great idea. It's a forecourt like no other, and we're delighted to be there. This is all about letting potential customers see what's available in the Maserati range, and tying it in with what Woodgate Aviation provides from its first-class hangar.
"The Ghibli and Levante are stylish luxury cars, a perfect fit, you might say, with the range of private jets and turbo-props accommodated at Woodgate Aviation."