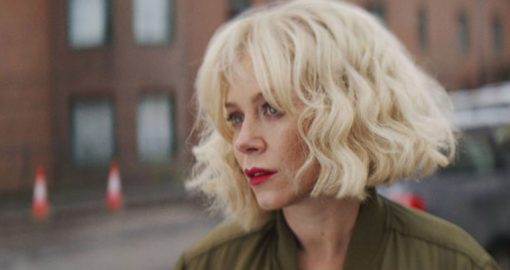 Marcella Series 3
A small sequence in season three of the ITV cop drama, 'Marcella', was filmed on the floor of our hangar nineteen months ago.  Reason enough why we'll be glued to our tv screens next Tuesday (26th) for the first two episodes of the gripping eight-part series which features the hugely talented Anna Friel.
Anna, who's the daughter of talented Belfast musician, Desi Friel, is Detective Marcella Backland. Backland comes to Belfast as an undercover detective with a new identity as Keira and infiltrates the ruthless Maguire crime family.
This crime-noir, which was written, directed and produced by Swedish screenwriter, Hans Rosenfeldt, also has strong performances by accomplished Northern Ireland actors, Aaron McCusker, Amanda Burton, Martin McCann and Michael Colgan.
On location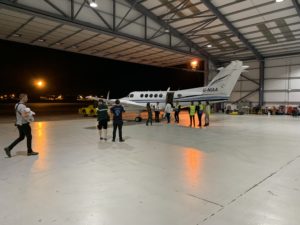 Apart from Woodgate Aviation hangar, there are scenes shot in Belfast City Hall and St Anne's Square.
Anna, who is an accomplished and award-winning actor, got to catch up with many of her eight-two cousins during the Belfast 'shoot', one of whom, Katrina, stood in as her body double.
Woodgate Aviation was delighted to have facilitated the 'shoot' which involved using one of the company's Beechcraft King Air turboprop aircraft.  It involved a cast and crew of eighty-six and a stay of nine hours.
Filming
The actual 'shoot' lasted between an hour and ninety minutes for a closing scene that lasts anything between five and ten minutes. The work involved completely redesigning the lounge, re-naming it 'Antrim Private Jet Airport Lounge'.
Business Development Manager, Keith McKay, said: "'Marcella' was the second time Woodgate was chosen by a tv and film production company – the first was during the making of 'The Journey' which told the fictional story of Ian Paisley and Martin McGuinness.
"The hangar is a first-class facility, a ready-made location ideal for all forms of drama and documentary film-making. The hangar floor offers an abundance of space while adjacent to it is a world-class reception area.
"Scouts are always on the look-out for suitable filming locations and we have everything they might possible need in our hangar.
"In addition, we can make available a range of aircraft for specific 'shoots' – all the scouts have to do is ask.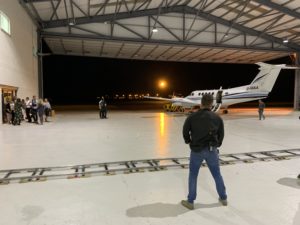 "We thoroughly enjoyed having Anna and the crew of 'Marcella' with us and hopefully they'll help spread the word about the impressive facility we have at Belfast International Airport and how it meets the most exacting standards."