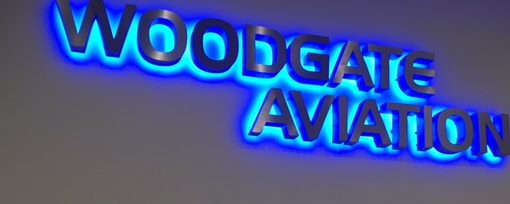 It's no ordinary signage. It draws the eye long before you come through our front doors, and is the new focal point in our FBO reception.
The LED sign is a much smaller but no less effective version of the enormous sign over the hangar doors that's visible from hundreds of yards away.
The new sign completes the reception area which already boasts a full-sized propeller on one wall and comfortable seating for visitors.
The sign was made by LED lighting specialists, Visual Edge, Strabane, who were also responsible for the main exterior sign.
Woodgate Aviation's Business Development Manager, Keith McKay said the sign, which bears the company name, was made to exacting standards by Visual Edge.
Keith added: "The LED sign is different and that is what we wanted to achieve in the reception area. It's clean, distinctive and makes an emphatic statement.
"Woodgate Aviation prides itself on being the best, and in commissioning this sign, we sought to convey a message of quality and customer commitment.
"We have a Fixed Based Operation (FBO) at Belfast International Airport that is unique not only in Northern Ireland but in the island of Ireland and we felt we had to have signage that adequately reflected what we do here for customers who have exacting standards and rightly demand the best."
Visual Edge Signage said the County Tyrone company was delighted to have won the business not only for the reception sign but for the much larger and challenging sign above the hydraulic hangar door.
Ian Friel, Visual Edge's Managing Director, said: "Woodgate Aviation knew what it wanted and we worked to deliver an exacting specification. We have now added the two Woodgate signs to our expanding portfolio and we are delighted to showcase our work to prospective clients.
"The signs presented one or two challenges for us but we overcame them and ended up with LED signage that is in a category all of its own. We're delighted with the business from Woodgate Aviation and hope to do more work with the company in coming months."