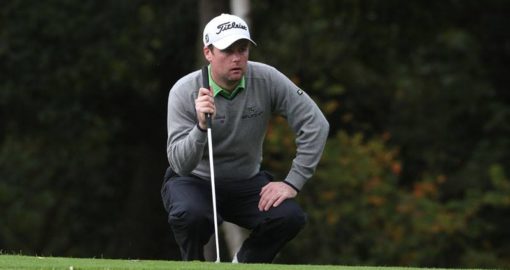 When he steps up to tee off in the Challenge Tour Northern Ireland Open at Galgorm in August, local golfer, Jonny Caldwell, will bear our name on the course.
The decision has been taken to continue with the sponsorship of the talented Bangor golfer who chalked up a successful 2017 on the PGA EuroPro Tour and has qualified for the Challenge Tour.
As he moves ever closer to a spot on the European Tour, Jonny is focused on his game and the need to maintain the momentum.
The Challenge Tour schedule, which includes the Northern Ireland Open, is demanding and the ideal tournament for a professional to make a statement about the quality of his game and to show his potential.
Jonny says: "I'm looking forward to the Challenge Tour. I'll be pitted against some really first-rate players and I will have to prove my mettle.
"I have great support behind me, and securing a second sponsorship from Woodgate Aviation is a welcome boost.
"I know I will have to produce some superb golf if I'm to realise my ambition of playing in the European Tour in 2019. There can be no greater challenge than climbing this particular ladder.
"The Northern Ireland Open in Galgorm is top of my list. I want a big performance on home soil and I know I will have big local support behind me. Finishing in the top five of the 2017 Euro Pro Tours Order of Merit is a colossal boost, and I will be doing everything possible to exploit the opportunity that's now before me.
"Once again, I will be wearing Woodgate-branded kit on the courses. I'd like to thank the company for once again supporting me in my professional career. Backing like this cannot be over-stated, and the fact that it's a Northern Ireland company makes it all the sweeter."
Woodgate Aviation General Manager, David Shaw, is delighted to have been in a position to renew the sponsorship deal with Jonny and wishes him all the best for the year ahead.
David says: "We are gearing up for The Open in 2019 when he are offering first-class facilities for private aircraft coming in from short and long-haul destinations."
"Seeing Jonny on the course bearing the Woodgate Aviation name puts us where we want to be, driving awareness of who we are and what we do. We get great national and international tv exposure from the deal as Jonny competes at this level."
"Jonny is a first-class brand ambassador. Who knows, if he does well this year, we might just see him at Royal Portrush for The Open in 2019, and that would be a wonderful career achievement. We'll be following his progress with a keen eye this year, and hope he'll get to the final in Oman where the winner qualifies to compete on the European Tour in 2019."