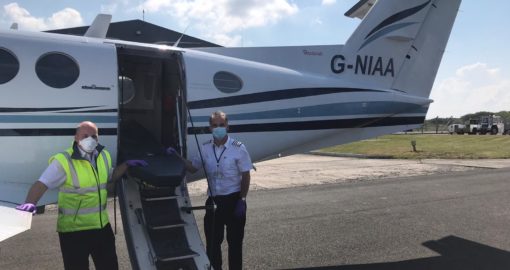 COVID19….We've never seen anything like it, but we're getting on with the job and still flying!
In our fifty-one years of flying, Woodgate Aviation has never seen anything like it.
We have had to adapt and radically alter our daily routine. Out went normal tried trusted practices and procedures, and in came a new way of flying and doing our business.
Right across Woodgate Aviation, from home working to social distancing and additional aircraft disinfecting, we had to adapt, modify, re-shape and introduce new workplace modes.  Like many other businesses, the Coronavirus lockdown on the 23rd March made us re-think everything. A lot had to be done at breakneck speed!
Now, three months on, it's safe to say that Woodgate Aviation staff don't think twice about the measures that have become the 'new normal'.  Social distancing, sanitation measures and provision of Personal Protective Equipment (PPE) happened very quickly. Non-operational staff switched to working in an office to working from home.  Rostered Operational Staff were moved to 'on call' also from home. Unfortunately, like many businesses, the company had to furlough some employees during this devastating time.  Elsewhere, pilots and the maintenance team were segregated within the hangar base to adhere to social distancing guidelines.
Naturally, the workload has increased as our staff carry out necessary aircraft and lounge sanitation after each flight in addition to daily operational duties. Our team ensure there's sufficient stocks of wipes and sanitisers for all our guests, including patients and staff using and operating the Northern Ireland Fixed Wing Air Ambulance.
PPE has to be issued to all staff to meet our requirements when transferring patients. Keeping up the required stock can be challenging, but to date we have managed to meet all safeguarding requirements.
Woodgate Aviation Accountable Manager, David Shaw, said feedback from employees was heartening and very reassuring.  "Our team noted the company's duty of care, with staff appreciating how quickly we were able to act and implement preventative measures along with increasing awareness about COVID-19, new Government regulations and signage."
On the Air Ambulance side of things, with hospitals restricting patient transfers to curb the spread of the disease, and less focus on non COVID-19-related care, general activity levels reduced.  As the virus spread, Woodgate Aviation supported a good amount of Air Ambulance handling at Belfast International Airport, especially in relation to transplant teams and organ transfers.
David also adds: "We also handled a few private jets on repatriation flights from Europe.  Some business stemmed from the grounding of airlines and closure of airports. People and businesses have turned to private aviation. During the lock down, any private jet charters brokered were focused on repatriating stranded customers.  We hope this will lead to an increase in business for our charter department, as many will deem it easier to social distance on a private jet than a commercial airliner with the added frustration of the possibility of increased airport transit times due to addition health checks."
"At the start of the year, we could never have imagined the impact Coronavirus would have on our business. In such a relatively short time frame, we have grown used to a new 'business as usual' but long for the return of the way it was when we did our business face-to-face rather than rely so much on Skype or Zoom. We're getting on with this strange new world which is made a lot easier by having employees who are professional and so committed to maintaining essential services like the Air Ambulance."