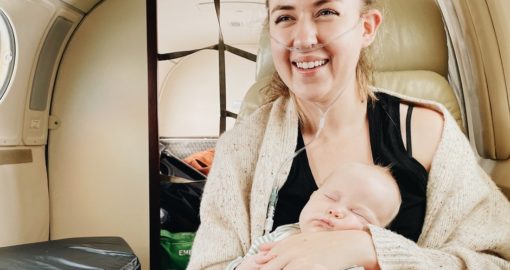 We never know when we are going to need urgent life-saving medical intervention. However, those on 'The List' are always waiting for that call. The one that means they will receive a much-needed organ so that their life can be extended and improved.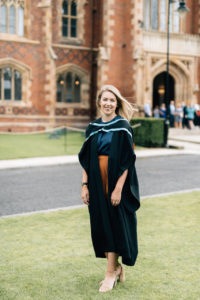 For 30-year-old Catherine McCarroll from Belfast, a newly qualified junior doctor at the Ulster Hospital, when daily tasks suddenly became more difficult, she naturally … consulted the doctor … and after many tests, she discovered that she had Interstitial lung disease (ILD).
With treatment, Catherine's condition she was able to continue her studies at queens and began work as a doctor in August 2019.
Catherine's condition deteriorated during her pregnancy and after the birth of her daughter Eve, their family was told that a lung transplant would be on the horizon in the next 5-10 years. However an unexpected rapid decline in her health meant Catherine, her husband Andi and 4-month-old Eve travelled on Woodgate Aviation's air ambulance to and from Freeman Hospital in Newcastle, for transplant assessment in August 2020.
While Catherine was somewhat concerned about travelling with and breast feeding her new baby, she says that Woodgate's Dr Jeremy Lyons looked after them well, paying special attention to baby Eve.  Catherine puts it like this: "Dr Jeremy and the Woodgate Aviation crew were wonderful. They made what could have been a stressful flight so easy."
Unfortunately, some months later, Catherine found that her lungs were much worse and in December 2021, she was moved to the urgent list.
In January, Woodgate Aviation's air ambulance transferred her from Belfast to the Freeman where she was put on equipment that bypassed her own weakening lungs and helped her breathe more easily.
17 days later Catherine got the news that she was to receive a double lung transplant, Donor lungs had become available and the operation went accordingly to plan.
Catherine, who is now recovering in the Freeman Hospital, wants to thank everyone who helped on her transplant journey, saying: "The staff at Freeman Hospital, the air ambulance crew and Woodgate Aviation team saved my life with their professionalism and care. I was treated with extraordinary kindness throughout the journey.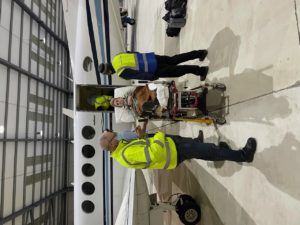 "I never thought that I would be on the patient end of the donor process. The person who donated their organs, and their family, have given me my future back – the incredible gift of life, the ability to see our daughter grow.  I am so grateful.
"To those who have thought of being an organ donor, I would say, register and let your loved ones know of your decision. That conversation could save a life like mine."
Catherine is continuing to improve and hopes to be well enough to come home soon.
Woodgate's Operation's Manager, Keith McKay said "Woodgate Aviation is delighted to have played a part in this transfer to Newcastle and we're delighted to learn that Catherine is making a good recovery. Our dedicated air ambulance team have flown many hundreds of patients to Great Britain for life saving operations covering the full range of organ transplants including this one for a double-lung transplant. We appreciate Catherine's kind words about our service and, when the time comes, we look forward to bringing her back home."
Catherine is continuing to improve and hopes to be well enough to come home soon.