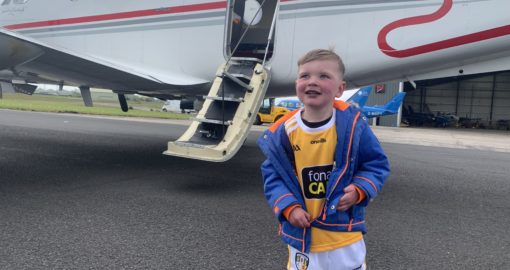 Dáithí Mac Gabhann
A fortnight ago we had a celebrity on board.
Belfast's very own Dáithí Mac Gabhann, who was born with Hypoplastic Left Heart Syndrome, boarded Woodgate's Air Ambulance to fly to Newcastle Hospital for a medical assessment.
Dáithí and his family have become known to people throughout the island of Ireland, north, south and beyond as they have been campaigning to promote the need for organ donors and for people to sign up to the Organ Donor programme.
As they await that crucial call ,saying that a heart is available for Dáithí, he soldiers on with a smile on his face and that's just how he was when he boarded the air ambulance for his overnight stay in Newcastle Hospital.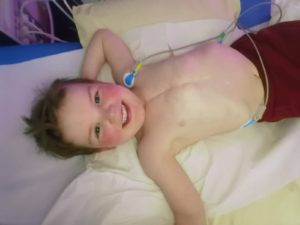 Captain Mark Penarski and Flight Operations Assistant, Dave Booth, were the flight crew in our King Air BE20 Air Ambulance, G-NIAB, who transferred Dáithí, to and from Newcastle.
Online, Dáithí's mum and dad thanked the medics for all their help and professionalism and said "the team at Woodgate Aviation have been absolutely incredible".
David Shaw, Woodgate Aviation's Accountable Manager responded saying, "While we very much appreciate the comments, the Woodgate Team is simply doing its job. That is made much more enjoyable when we have someone like Dáithí onboard. Even though it was a medical trip, he was in great spirits going and returning."
Keep up to date with Dáithí's progress via Twitter, Instagram and Facebook via @Donate4Daithi
Woodgate Aviation Air Ambulance
Woodgate Aviation operates a fixed-wing Air Ambulance service carrying patients and organs for hospital transfers and emergency surgery all around the United Kingdom as well as offer private Air Ambulance repatriations within Europe.