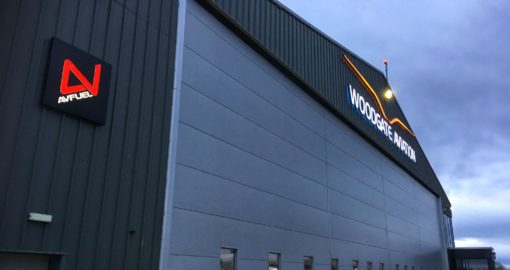 Since 1969, Woodgate Aviation has been the leading provider of Corporate, Business and General Aviation services at Belfast International Airport.
Belfast International Airport
Belfast International Airport is Northern Ireland's Principal Airport and the second largest gateway on the Island of Ireland. The airfield is operational 24 hours, offers a choice of 4 runways (up to 9121ft), CAT II /IIIB operations, has RFFS Category 7 fire coverage with upgrades to Category 9 available, Immigration/Customs available 24 hours and the airfield is not slot restricted.
Our Services
A member of the AVFuel network of FBOs, Woodgate Aviation offers a diverse range of services including Air Ambulance/Air Ambulance Handling, Aircraft Charter, Aircraft Management, Aircraft Maintenance, FBO/VIP Aircraft Handling and an Approved Training Organisation (ATO) for Flight Training.  Our location at Belfast / EGAA in the NE of the island of Ireland, also makes Woodgate Aviation a perfect FBO for quick turn tech stop for ferry flight or business jet operators and an ideal alternative to that of Shannon / EINN.
Woodgate Aviation is the only handling agent to offer customers AVGAS/100LL and hangarage at Belfast / BFS.
Our Fleet
Woodgate Aviation currently operates a fleet of two King Air turbo prop and two PA31 Chieftain piston engine aircraft. These aircraft are utilised fully, amongst other things, on private charters, Air Ambulance patient transfer and Ordnance Survey contracts.
Fully accredited and giving you the highest standards in safety and customer service we are an AOC holder, approved by the CAA. Additionally, we are ISO 9001 certified.  We also hold membership of the European Business Aviation Association (EBAA) and the Irish Business And General Aviation Association (IBGAA).