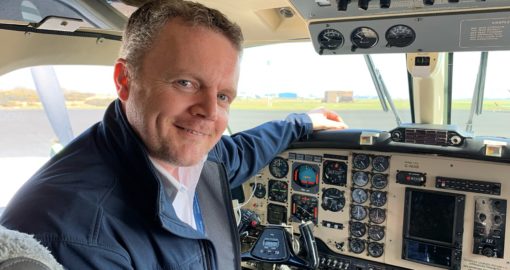 ATO Development
Woodgate Aviation has announced a major step forward in the development of its Approved Training Organisation (ATO) arm of the business.
The company, which operates the fixed-wing Northern Ireland Air Ambulance, has signed an agreement with the Finnish Aviation Academy that will give it a significant advantage over other UK approved training organisations.
The Agreement
The new sales representative agreement will effectively give Woodgate Aviation exclusive rights to access the Finnish Aviation Academy's Full Flight King Air Simulator to accommodate the demand of the UK training market.
Woodgate Aviation's AOC Training Manager & ATO Head of Training, Captain Simon Atkins said: "This agreement is a unique selling point over other UK operators. "
"Effectively, it means that Woodgate will act as the Finnish Aviation Academy's sales representative in the UK when a pilot needs UK Civil Aviation Authority (CAA)-approved training."
Woodgate Aviation, which is based at Belfast International Airport, will also be able to advertise approved training for pilots on the King Air aircraft who also hold European Licences.
Simon continued: "We are delighted to be able to announce this latest advance for the company. The Finnish Aviation Academy is a vocational special purpose aviation school located in the City of Pori on the west coast of Finland and has a justifiable world-class reputation as a centre of excellence".
"This greatly broadens our horizon as an Approved Training Organisation and means we can facilitate Irish pilots, and those in all other EU member states, who require King Air training within the bloc, by also partnering with Aelous Aviation Academy in Greece, to assist with EASA Certification.
"This is a further and positive development for Woodgate as an Approved Training Organisation. This side of the business holds great potential in the Ireland-wide and EU context. Pilots in need of initial, recurrent or refresher training will get valuable time on cutting-edge equipment and be able to complete exacting and realistic training in the most modern King Air simulator available."
A spokesperson for the Finnish Aviation Academy responded, "We are delighted to appoint Woodgate Aviation as our Sales Representatives for the UK market. Since Brexit, it has been difficult to support our UK customers. Now with our partnership with Woodgate Aviation we have a great solution as they are a UK CAA approved ATO and the King Air simulator is now UK CAA approved. We welcome the many UK King Air pilots to perform training and checks with Woodgate Aviation in Pori, Finland."
The Finnish Aviation Academy 
The Finnish Aviation Academy was established by Finnair, the local airline, to train new airline pilots for the airlines in  Finland via its ab initio program. The Academy has 30 years of experience in King Air pilot training. Customers come from Europe, Africa, India and the Far East. The Academy offers customer training for the King Air and also the Embraer Phenom 100.
Woodgate Aviation
Woodgate Aviation operates two King Air and Piper Chieftain aircraft and conducts life-saving, fixed wing air ambulance transport for patients in need of specialist hospital services, aerial survey and private charter flights throughout the UK and Ireland. It also operates aircraft management, aircraft maintenance, hangarage and FBO/VIP Handling Services for General and Business Aviation operators, from its Private Jet Departure Terminal at Belfast International Airport.