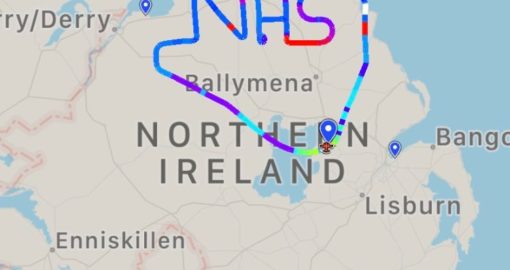 Woodgate Aviation's Aerial Tribute to NHS
Woodgate Aviation fixed wing Air Ambulance operator, has traced out the initials 'NHS' in the skies above Northern Ireland to coincide with 'Clap for Carers' this evening.
The track taken by the King Air BE20 aircraft could be seen on flight tracking apps Planefinder and Flightradar as it flew at 15,000 feet over the towns of Coleraine and Ballymoney.
The Air Ambulance, which has transported hundreds of patients from Northern Ireland for specialist medical treatment in hospitals in Great Britain, was on a 'proving flight' following maintenance work at the Woodgate hangar at Belfast International Airport.
The aerial 'NHS' was Woodgate's unique way of saying 'thank you' for the heroic work being done by frontline NHS staff to combat the Covid-19 pandemic.
Woodgate Aviation pilot, Nick Byrne, who lives in Bangor, was at the controls during the solo flight.
Afterwards, Nick said: "Completion of maintenance work on the King Air coincided with the weekly 'Clap for Carers' when people show their appreciation for NHS staff. We decided we would try to write NHS in the skies which could be seen on aircraft tracking apps.
"I've never attempted anything like this before and although there was a little wavering, I'm delighted with the outcome."
Woodgate Aviation Operations Manager, Keith McKay, said: "We have a long track record of working with the highly professional and dedicated staff in the NHS, and this was our way of applauding the tireless work they do in our hospitals.
"We all owe frontline staff such an immense debt of gratitude that we felt this would be a fitting and novel way of recognising their efforts on our behalf."