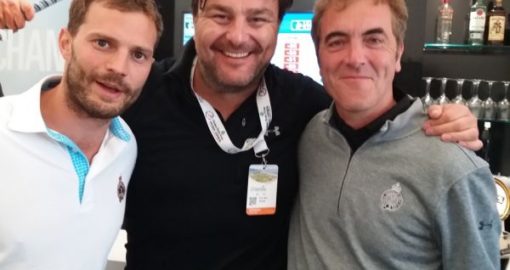 Woodgate Aviation hit the equivalent of a hole-in-one with a few tweets from the Irish Open.
In particular, one photo outshone, eclipsed and out-did all the rest, and achieved an all-time personal best on Twitter for our company.
Centre-stage was our Managing Director, John Keen, who, along with a veritable 'galaxy' of stars, was taking part in the Celebrity Pro-Am at Portstewart.
In between grappling with bunkers and an impossible handicap, John was tireless in promoting Woodgate's ultra-modern hangar at Belfast International Airport to an audience who appreciate private charters and speed.
This was Woodgate's 'pitch' for the Open Championship which comes to neighbouring Royal Portrush in 2019 and which will attract the elite of golf from all over the World along with high net-worth individuals who are keen fans and supporters.
John rubbed shoulders with sporting greats, music and movie celebrities during the Pro-Am.
So, a few photos were taken. One stand-out snap with heart-throb Jamie Dornan and the effervescent and fun-to-be-with James Nesbitt hit the jackpot.
This one photo spread like wildfire, and hit the global stage with a bang.
By Friday lunchtime, the picture of the happy trio had gone from zero to over 48,000 views or impressions, in Twitter speak. This was a record!
John was quick to claim the credit. He said: "Clearly, the two lads were delighted to be 'snapped' alongside me. Personally, I wasn't too surprised the photo went viral.
"Seriously, though, I was taken aback. Jamie and Jimmy are 'A'-listers and their popularity is astonishing. They're down-to-earth fellas and very much game for a laugh.
"We've had a Twitter account for three years, but this was the first time we went into overdrive. Celebrity status does that, I suppose!
"Within eighteen hours, the Twitter figure had risen to close to 35,000 and while it slowed down a bit, it was still climbing. Much bigger enterprises than Woodgate would give their right arm for a Twitter 'reach' like this, and I'm delighted with the result.
"We are now more widely known internationally because of the photo and our hope is that some potential clients will be amongst those who viewed it and will get in touch to find out more about what we do, and what we can deliver for them, as a foremost Fixed Base Operator (FBO)."
Woodgate Aviation began the week flying ex-snooker World Champion, Dennis Taylor, from Liverpool to take part in the Pro-Am.
Touching down at the Woodgate hangar, Dennis was suitably impressed: ""The whole facility's fantastic. In a couple of years' time, when the British Open is here, why not fly into here and then just pop up in a helicopter to Portrush.
"I'm very, very impressed with the hangar. It really is something special."
After that, it was on to Portstewart, where John, never one to shirk a difficult task, took on the arduous task of mixing with the celebs.
John proved a big hit in front of the cameras. He was 'snapped' alongside Dennis, Shane Filan and former British and Irish Lion, Stephen Ferris.
Perhaps, next time, we"ll leave John in the office and take on the outdoor tasks!! #shadesofblue #luckyman